I've had these done forever and keep forgetting to post them. SO YES. Have shinies. You can find my
Water Tribe inspired stuff here.
I actually had a lot more trouble with this set than I did with the Water Tribe pieces, although that might have something to do with that fact that I'm not personally fond of gold.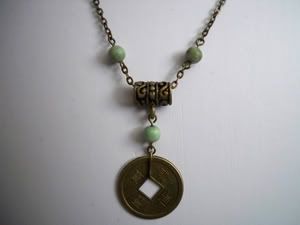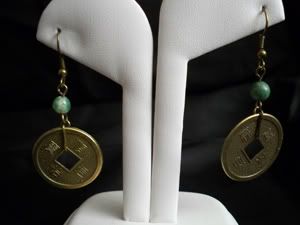 These are easily my favorite pieces of the new set. The colors are subtle and, well, earthy, and the shape of the coins is an obvious bonus. Made with imitation Chinese coins, jade beads, and antiqued brass findings.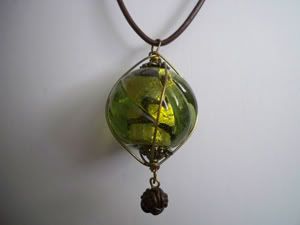 A simple, but awesome glass pendant chosen for the colors, on a simple leather cord.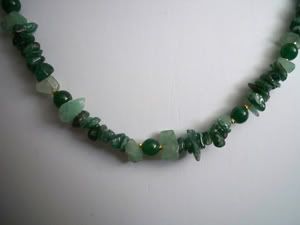 This necklace is made with adventurine chips and beads, with gold microbead accents. I really love working with semi-precious chips. They make for some really pretty pieces.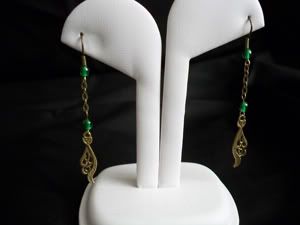 Made with green glass beads and antiqued brass leaves. For the majority of the EK stuff I made, I stuck to simple designs and muted colors, since the majority of Earth Kingdom citizenry don't strike me as the types for fancy-pants adornments.




And of course, it wouldn't be an EK set without some fans. :D Kyoshi-inspired earrings made with malachite chips.




More malachite chips in a simple brass cage pendant.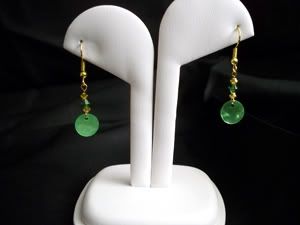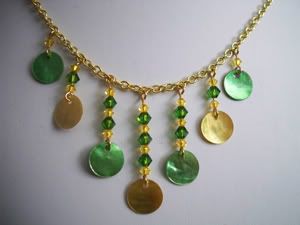 These are made with dyed mussel shell drops and Swarovski crystal, and are a nod to the Ba Sing Se elite and their more elaborate styles.




And last we have some delicate brass earrings with a green crystal bead in the center, another piece on the fancier end of things.
As with before, all the these pieces are
available for sale at my Etsy shop.
If there's something you like that's already been purchased from the shop, drop me a note. Changes are I have the supplies to make another one.
Two down, two to go! Up next, Fire Nation. And hopefully it won't take me
quite
as long to get the next set finished. ;)